Market Eatz | Fast, Casual Dining
3600 Sq feet of Fast Casual Dining, a specialty market, bar, & excitement! Serving burgers, tacos, bowls, specialty menu items, weekdays and brunch on the weekends! All menu items are original recipes, created just for Market Eatz using fresh ingredients, locally sourced when available & from scratch.
Featuring craft cocktails, local beer, and a selection of wine. We also offer offer delivery services. For those who might remember Louisiana Market, (Back in the day – 1998 – 2001) the uniqueness of that concept, and their famous Chicken Salad… Its back! Come by today to refresh your memory with a free sample!
Meet Our Owner, Bryan McLain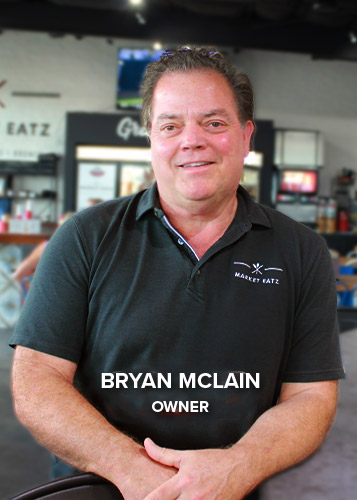 Bryan's expertise and passion for real estate has earned him a strong reputation for quality construction and beautiful developments. Vision combined with years of finance and business experience are the key elements to the diversity that make up the current holdings of McLain Companies. McLain has planned and completed seventeen family-village style neighborhoods. McLain Companies also works in the commercial side of Real Estate and owns McLain Market Place where Bryan's personal passion for food can be experienced at his successful, local favorite, restaurant known as Market Eatz. The McLain Family of businesses are longtime partners of St Jude Children's Research Hospital. McLain has provided lots for the St. Jude Dream Home project,designed and built the Acadiana (Lafayette LA) Dream Home since 2010. Bryan,his family and staff have raised over 13 million dollars for St Jude. He attributes his success to giving back and helping others.
Creating Market Eatz was a family effort. Bryan was the visionary behind the design of McLain Market Place and the Market Eatz concept. Bryan believes he has created a great restaurant with a fun, casual atmosphere and a unique vibe that is warm and welcoming to our clients.
Meet Our Assistant Manager, Brandon McLain
Meet Market Eatz's Partner-Owner/Operator Brandon McLain
A passion and palette for excellent food runs in the McLain family.
Brandon's appetite for duck empanadas as an after-school snack was surely a product of sampling his dad, Bryan McLain's, excellent recipes. Brandon's early exposure to gourmet foods would shape his career.
After several jobs in the service industry in Lafayette, he moved on to work in some of the most high-volume and sought-after restaurants in West Palm Beach, FL and Nantucket, MA.
Brandon knew that adding his customer service and operations experience to his dad's incredible flavor pairings, vision to combine ingredients, and ability to create a great menu would be a recipe for success.
After years on the east coast in various positions of the service industry, Brandon is excited for the opportunity to offer great food, service, and most of all to be back in Acadiana, his hometown, serving great food to his family and friends.
When Brandon's not working, you can find him on the golf course, basketball court, or spending time enjoying his big extended family in his dad's kitchen trying new foods, and recipes!
At the core of this restaurant is family. The McLain's work to make all their employees and guests feel warm, like family, and at home when they come to Market Eatz.
Meet Our Head Chef, Jimmy Connell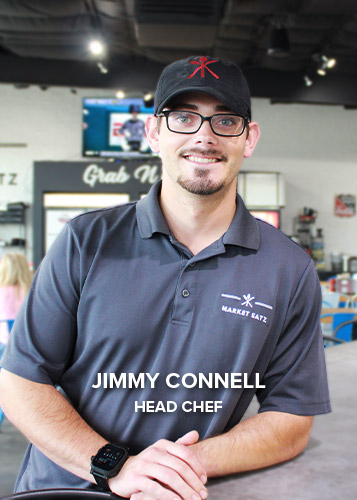 Jimmy was born and raised in Lafayette, LA, where like most locals he grew up in a Cajun family with a deep-rooted passion for food.
While Jimmy's culinary interest began at a young age, his decision to pursue his passion for cuisine came during his time working as an athletic trainer and team manager for the Ragin Cajun football team. He then went on to earn a degree in Culinary Arts from South Louisiana Community College.
His culinary career began with the Olde Tyme Grocery family of restaurants where he started as a po'boy craftsman and later moved on to Kitchen Manager and Operations Manager. He also spent time as a Line Chef at Copeland's Batch 13, and a Lead Chef at Bailey's Seafood and Grill.
Jimmy has a passion for creating exceptional food experiences and getting his team excited about making amazing food for family and friends. When he's not in the kitchen perfecting his next noteworthy dish, Jimmy can be found spending time with his dog Sabbath and exploring the unique flavors of local craft beers.